General Rules
(1) Every students expected to carry the almanac to school every day.
(2) students are expected to move in the corridors and stairs in a disciplined manner. They will walk in a line in perfect silence at all times.
(3) If a student misses the school bus, please do not send the child to school by the Primary bus.
(5) Students are to refrain from bringing any sharp objects to school.
(6) Students are not to carry mobiles/electronic gadgets to school.
(7) Students who use offensive language, bully & hurt other students or cause damage to school property are liable to be penalized.
(8) Students who forget belongings can collect them from the Lost & Found in the office. If a child forgets his belongings thrice in a month, the student will have to pay a fine of Rs.100/-
(9) Every pupil should endeavour to keep the high standard of the school, by excelling in good manners.
(10) Students should take pride in keeping the school clean.
(11) The school management reserves the right to alter or amend any of these rules and the same shall be binding on all concerned.
(12) Attendance during Republic day and Independence Day Celebrations is mandatory for all students. No leave will be sanctioned on these days.
(13) In case your ward has been chosen to participate in interschool competitions, which are beyond the permit limit of the school transport facility, the charges are to be borne by the parent.
(14) Tattoos of any kind are strictly prohibited.
Transport Rules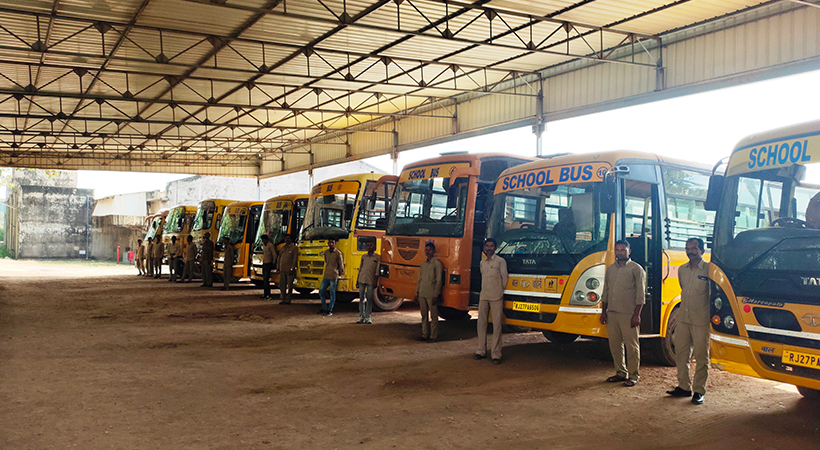 (1) Bus facility is available on fixed routes with designated stops.
(2) Parents are expected to be at the stop 10 minutes before the scheduled arrival of the bus.
(3) If a student misses the school bus, please do not send the child to school by the Primary bus.
(4) Students are permitted to use only their designated bus and bus stop. No change will be allowed without written permission of the authorized person.
(5) Bus will leave the stop at the designated time. In case a child misses the bus. Parents are requested to drop the child to school.
(6) Students are expected to remain seated while the bus is in motion. Students are expected to maintain silence and behave in a decorous manner at all times.
(7) If discipline is not followed the student will be barred from using the bus service.
(8) Any case of negligence by the bus driver of attendance should by brought in writing to the transport incharge along with a copy to the principal.
(9) Parents are requested not to make any oral request to the bus drivers or attendants. Any request should be made in writing to the transport incharge.
(10) Though utmost care is taken while transporting the children, the school will not be held responsible for any untoward incident.
(11) In case of any emergency and the child has to leave school before school hours the procedure to be followed is:-
a. Written request by the parents.
b. Permission slip obtained from the office and signed by the authorities to be shown at the gate.
c. School leaving register to be signed by the parents.
(12) A child, who consistently reports late at the bus stop or caught misbehaving more than 3 times in the bus, will be refrained from using the bus service.
Don'ts
Do not stand behind or in front of bus or other vehicle, as the driver will not be able to see you while reversing.
Do not try to board or jump off a running bus.
Do not try to board or get down from bus in the middle of the road.
Do not stand on the footboard of the bus/vehicle.
Do not lean or peep out of the door/window of the bus/vehicle.
Small children should not cross the road unescorted.
Do's
Leave seat(s) nearest to entrylexit door for your teacher(s) accompanying you in the bus.
Step into or out of the bus only when it is at rest or comes to a complete halt.
Board or get down from the bus in an orderly disciplined) manner
Put your bags under the seat or at a specified place.
Walk on the pavement of the road.
Before crossing the road, look to right, then left and then to right in order to see whether the road is clear. Cross the road only, if it is fear of speeding vehicles.
Cross the road over the Zebra-Crossing.




School Uniform
(1) Students are expected to come in proper and complete uniform to school at all times, even during open days. The school uniform is to be worn when the student represents school for any event.
(2) Uniform needs to be well maintained and clean.
(3) Boys will maintain short hair and girls will use hair band in case of short hair and 2 plaits with white ribbons bands in case of long hair. Girls should ensure that hair should not fall on the forehead.
(4) Students not wearing complete uniform will be considered defaulters and parents will be asked to pick up the ward from school. In case of genuine problems parents are expected to send a written note in the Almanac.
(5) Wearing watches is not permitted. Fancy watches will be confiscated.
(6) Wearing expensive/valuable ornaments is not allowed.
(7) Nails to be cut by both boys and girls. Girls should not apply Mehandi or Nail polish.
Attendance
85% of attendance is required to be eligible for promotion to the next class.
Prior permission of the Principal is required for availing of leave for personal reasons.
All students are expected to attend the first day of school after any vacation break.
In case a child has been absent, the parent is expected to send an application as soon as possible.
A student returning to school after suffering an infectious or contagious disease should produce a doctor's fitness certificate permitting him/her to attend school.
Absence from school for merely social functions is strongly discouraged.
Admission
New Admission are subject to vacancies. No correspondence will be entertained as regards to admissions.
The management reserves the right to admit or retain a pupil in the school.
New pupils are admitted on payment of the admission fee. The admission fee is non-refundable, under any circumstances.
New pupils are admitted on payment of the admission fee. The admission fee is non-refundable, under any circumstances.
(a) An official Birth Certificate in support of the date of birth entered in the admission form.
(b) Original Report Card/Transfer Certificate/Mark Sheet along with a photocopy. The school fees will be charged from the month of April irrespective of the month of admission.
Withdrawal
One calendar week's notice is required to be given for the withdrawal of the student before the payment schedule else fees for the month will be charged.
School leaving certificate will not be issued until all the school dues have been paid in full.
Recommendation to parents
Parents are an integral part of the school and the school expects them to co-operate in enforcing all the guidelines that will benefit the child and assist in the smooth functioning of the school.
The diary serves as a bridge between teachers, students and parents. Parents are requested to sign the remarks written by teachers in the school diary. Also please sign in the 'Record of Circulars sent' as & when the circular is sent.
Parents can use the diary to communicate with the teachers regarding their child's academics or behaviour. All other matters should be addressed to the Principal.
The school insists on strict punctuality, regular school attendance, regulation regarding uniform, cleanliness in dress, good grooming and fidelity to study and work assignments. Absence from school for merely social functions is discouraged.
As the medium of instruction in the school is English, Parents should provide ample opportunities to their children to converse in English at home.
Parents need to check that their ward does not carry mobile phone to school. In case of emergencies the school land line to be used by students.
If a student is found carrying a mobile phone or any other electronic device, it will be confiscated and a fine of Rs.2000/- will be imposed.
Parents are requested to encourage their ward to take a balanced interest in academics, co-curricular activities and sports.
Parents are advised to strictly avoid criticism of school and school teachers in the presence of the ward, as it may lead to loss of respect for the school/school teachers which may in turn lead to failure to l earn from him/her, resulting in lack of ward's progress.
Discipline code
A. The following acts and conduct on the part of the students will amount to misconduct
1. Misbehaviour towards teachers or any other employee of the school.
2. Intentional disturbance of classes.
3. Absence from classes withour the permission of the teacher/Vice-Principal/Principal.
4. Bullying/intimidating others.
5. Eve-teasing/misbehaviour towards girl-students.
6. Damaging/disfiguring school property.
7. Propagating a strike/disruption of class.
8. Association with banned organizations.
9. Propagating communal/caste feeling among students.
10. Indulging in physical violence in any manner in school and school bus.
11. Disobeying lawful orders of the teachers/Principal.
12. Bringing authorizing people/articles/instruments.
13. Theft/pilferage of school/students property.
14. Any behaviour unbecoming of a student.
15. Indulging in acts of moral turpitude.
16. When students move along the corridors and when changing class they must maintain silence and walk in a single line keeping left.
17. Students are expected to speak only in English during school hours.
B. In case of misconduct school shall take action as per observation which may involved
1. Oral warning to the student.
2. Written warning.
3. Suspension of one day from classes/school/period after five written warnings.
4. Final written warning in case no improvement.
5. Suspension of one week.
Library Rules
Books will be issued to the students during the regular library periods only.
The student is expected to take proper care of the book and returned during the following library period.
A fine of Rupees 5 per day will be levied for a book which is not returned within a week.
In case of the book being lost, the student will either have to replace it or pay for it.
Text book, magazines and reference books are not issued. They are to be referred in the library.'
Students are expected to handle Journals, magazines, reference books etc. in the reading room with care. A student may be panelised for tearing or disfiguring the pages of books or magazines.
Examination Rules
Every Exam is mandatory to attend except in abnormal medical circumstances. Minimum 75% attendance is necessary to appear in exam.